Mr. Sudhamo Lal, CSK , Director-General of the MRA
---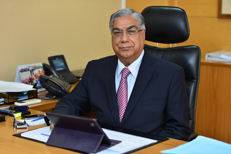 Mr. Sudhamo Lal is the Director-General of the Mauritius Revenue Authority (MRA) since 2005. He has several years of successful experience in sharing fiscal, strategic and operational leadership skills in revenue agencies. He has led a complete organisational transformation, with the merging of four revenue departments into an integrated revenue administration. He continually and successfully strived to implement the tax reform program and has instilled a high performance culture at the MRA through a new Human Resources Framework based on performance and efficiency, along with a flattening of the organisational structure.
Prior to working with the MRA, he worked in direct tax administration in Pakistan, progressing from Commissioner of Income Tax and Wealth Tax and Director-General (Withholding taxes), to member (Tax Policy and Administration) in the Central Board of Revenue, Islamabad. In this role, he was responsible for leading a US$150 million World Bank funded tax administration reform programme and interacted with the European Union, Asian Development Bank, International Monetary Fund (IMF) and other international finance institutions.
Mr. Lal acted as President of the Commonwealth Association of Tax Administrators (CATA) from 2009 to 2012, Vice Chairman for the World Customs Organization's Eastern and Southern Africa Region from 2011 to 2013. He was elected Council Member of the African Tax Administration Forum (ATAF) in September 2014 and in November 2015 he was elected Chairman of CATA for three years. In October 2016, Mr. Lal was elected to serve as Vice-Chairman of ATAF for two years. This vice-chairmanship was renewed in October 2018. In November 2018, Mr. Lal was again elected President of (CATA) for a period of three years.
In March 2018, Mr. Lal was elevated to the rank of Commander of the Order of the Star and Key of the Indian Ocean (CSK) in recognition of his contribution in the administration and collection of taxes.
---
---
Management Team

DEPARTMENT
NAME
TITLE
EMAIL
Customs Department
Mr. V. Ramburun
Director

This email address is being protected from spambots. You need JavaScript enabled to view it.

Finance and Administration Department
Mrs. N. Bunwaree
Director

This email address is being protected from spambots. You need JavaScript enabled to view it.

Fiscal Investigations Department
Mr. J.E. L. Ferre
Director

This email address is being protected from spambots. You need JavaScript enabled to view it.

Human Resources and Training Department
Mr. D. Maunikum
Director

This email address is being protected from spambots. You need JavaScript enabled to view it.

Information Systems Department
Mr. S. Sonah
Director

This email address is being protected from spambots. You need JavaScript enabled to view it.

Internal Affairs Division
Mr. R. Gobin
Team Leader - In Charge of

This email address is being protected from spambots. You need JavaScript enabled to view it.

Internal Audit Division
Mrs. S.D. Mooroogen
Director

This email address is being protected from spambots. You need JavaScript enabled to view it.

Large Taxpayer Department
Mr. M. F. Oozeerally
Director

This email address is being protected from spambots. You need JavaScript enabled to view it.

Legal Services Department
Mrs. O. Roopchund Mungar
Officer-in-Charge (Legal Counsel)

This email address is being protected from spambots. You need JavaScript enabled to view it.

Medium and Small Taxpayers Department
Mr. D. Ramdin
Director

This email address is being protected from spambots. You need JavaScript enabled to view it.

Objections, Appeals and Dispute Resolutions Department
Mr. G. P. Ramkissoon
Director

This email address is being protected from spambots. You need JavaScript enabled to view it.

Operational Services Department
Mr. M. N. Oozeer
Director

This email address is being protected from spambots. You need JavaScript enabled to view it.

Research, Policy and Planning Department
Mr. R. Oree
Assistant Director

This email address is being protected from spambots. You need JavaScript enabled to view it.

Taxpayer Education and Communication Department
Mr. A. Teeluckdharry
Assistant Director

This email address is being protected from spambots. You need JavaScript enabled to view it.